Conduct a rental valuation and market property accordingly
Interview prospective tenants over the phone and arrange viewing
Undertake Credit and Referencing of prospective tenants
Conduct a right to rent check on all persons aged over 18 years
Preparation for the tenancy i.e tenancy agreement and other relavant documents
Transfer the deposit in accordance to Tenancy Deposit Protection Legislation
Arrange Standing Orders to ASR Property Services Ltd Account
Monitoring of rental payments and forwarding them promptly to the landlord once received
Distribution of statement to the landlord with according payment
Chase and pursue late rental payments
Quarterly Inspections visits to the property
Notifying utility companies including council tax of the beginning and end of each tenancy
Arrangement of any repairs with prior agreement
Preparation and serving of appropraite notices

We offer two levels of management service please see this below in the chart: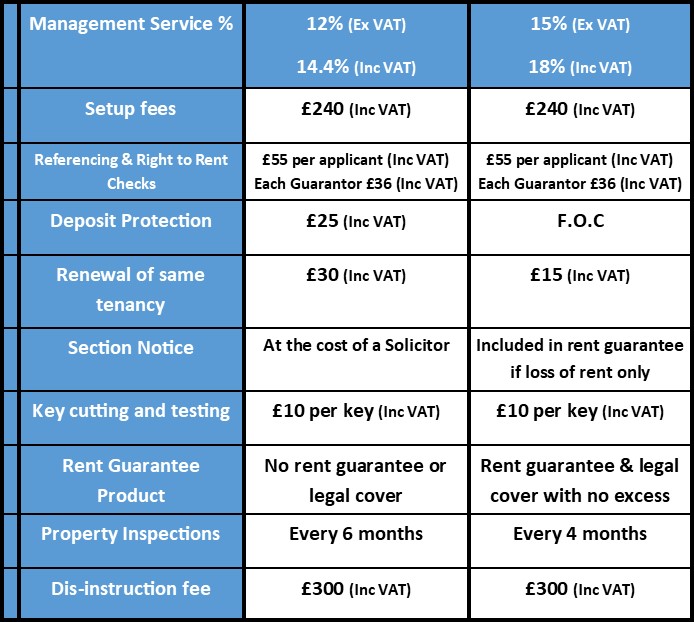 Please note that if statements are required by post there will be a charge of £1.50 per item (Inc VAT). Statements sent via email do not incur any charges.
Our top management service (15% (Ex VAT) / 18% (Inc VAT)) we will automatically put your property when available for rent on a premium listing, however if you have not selected this level of service you can still have your property marketed with a premium listing at a low cost of £25 (Inc VAT).
An inventory will be required in order to qualify for a rent guarantee product for each tenancy.

Options such as:
Inventory prepartions (check-in & check-out)
Gas Inspections
Energy Performance Certificates (EPC)
Electrical periodic inspections and portable appliance testing (PAT)
Legionella Risk Assessment

are available at additional costs and if the landlord requires them and are invoiced directly from the contractor

All client monies are held in a client account (ASR Property Services Ltd are a member of Client Money Protect of Premier House Elstree Way Borehamwood Herts WD6 1JH Tel: 0333 321 9414)
ASR Property Services Ltd are a member of The Property Ombudsman of Milford House 43-55 Milford Street Salisbury Wiltshire SP1 2BP Tel: 01722 333306 or website: www.tpos.co.uk (Redress Scheme)